Local. Trusted. Family Owned.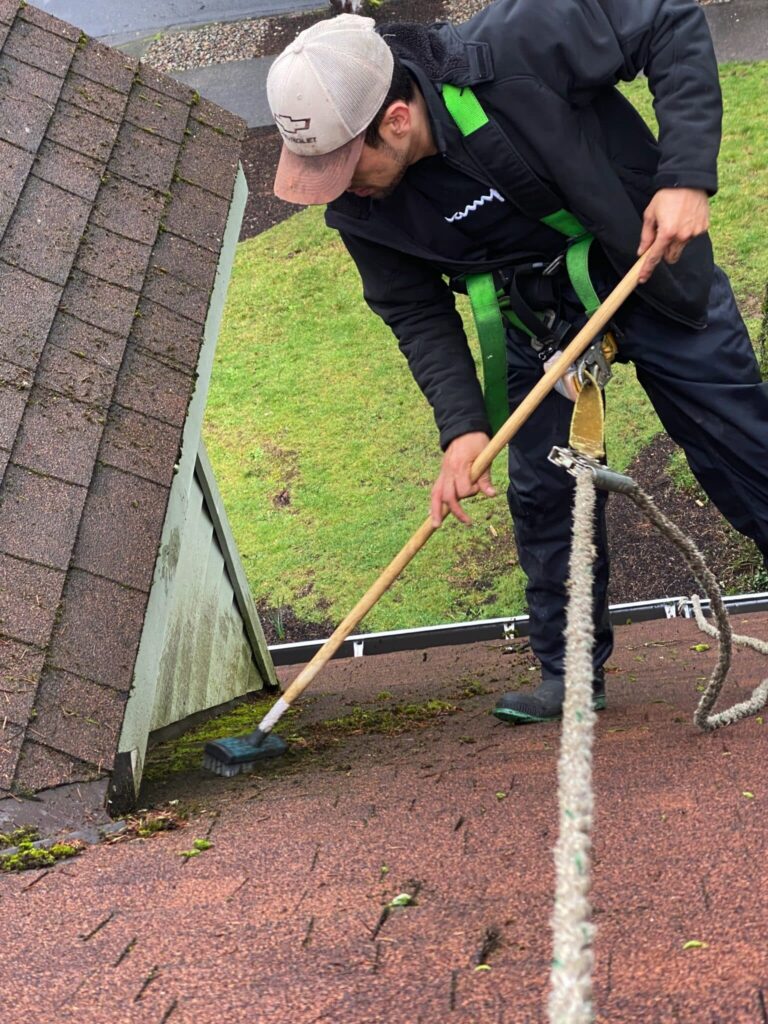 Top-Rated Roof
Cleaning in Salem
Your roof is often forgotten about unless you have an issue that needs addressed. Preventative roof cleaning is one of the most cost-effective ways to maintain the appearance and overall health of your home's exterior.
If you're looking for roof washing services in Salem, Oregon Exterior Experts are top-rated and ready to help. We use a gentle soft wash roof cleaning process that is effective and safe. It's important to hire trusted roof cleaning professionals to ensure your roof cleaning process doesn't cause avoidable damages to the surface of your house.
Regular roof cleaning is important in maintaining the look and feel of your home. In addition, it keeps your roof and shingles in good working condition and helps to prevent unnecessary debris from clogging up your rain gutters. Washing your roof regularly protects your roof from the impact that rain, snow and sleet could have and as a result, it can help prevent water damage both on the outside and inside of your home.
If your roof isn't properly cleaned on a regular basis, dirt and debris that is left for long periods of time could weaken your roof structure, making you more susceptible to rain damage. In addition, bacteria left on your roof could lead to shingle deterioration and other issues.
Searching for Salem
Roof Washing Near Me?
One of the most important reasons for regular roof washing is to prevent the buildup of moss on the surface of your roof. In areas of heavy and frequent rain, like we encounter in Salem and surrounding areas, your roof is susceptible to the buildup of moss and algae. Aside from the negative visual implications, roof moss removal can help prevent discoloration and permanent damage to your roof.
In addition, moss and algae can lead to allergic reactions and avoidable illnesses for your family members. Moss and algae on your roof, along with other debris, can attract insects and rodents, leading to a whole list of other potential issues in and around your house.
Our roof cleaning services use a soft wash process to effectively clean your roof while protecting your surfaces. Our Salem, OR roof cleaning team performs top-rated processes that effectively clean your roof without causing damage or impacting any roof or home warranties.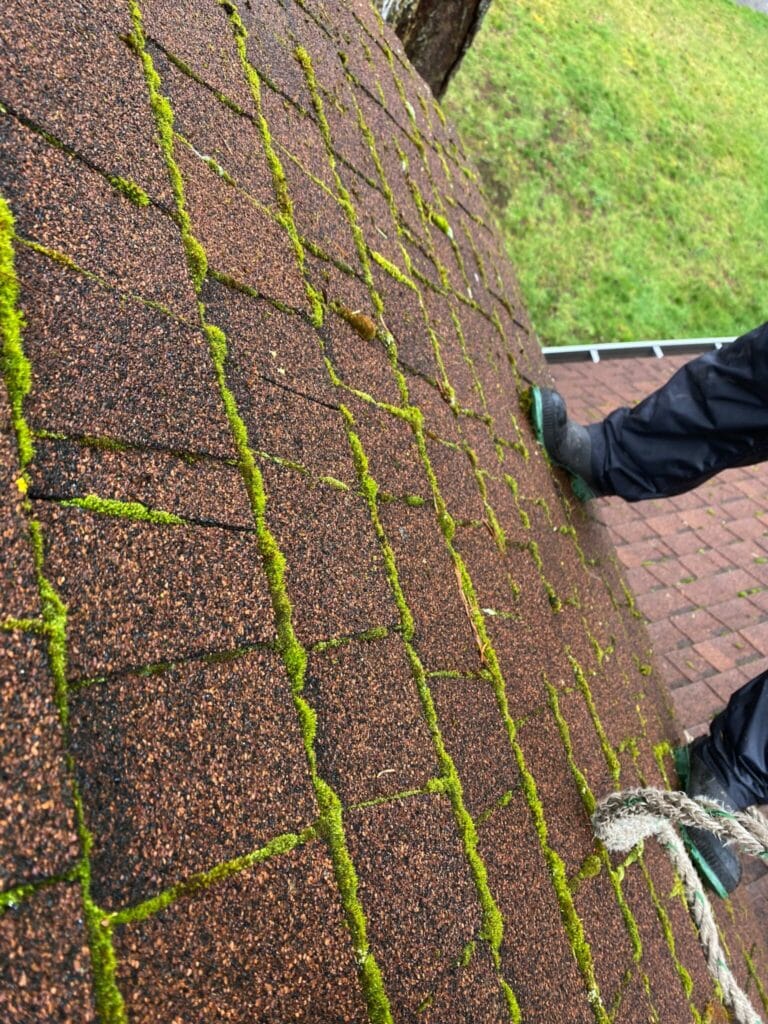 Local. Trusted. Family Owned.
Expert Roof Washing Salem OR Residents Trust
Call Today for Roof Cleaning &
Washing in Salem OR!
Our soft cleaning process is more than just cleaning. We also eliminate stains, sanitize surfaces and work to eliminate the root of your issues by getting rid of bacteria on your roof's surface that are known to cause long-term problems. Our trained experts know of common causes of damage and can help you understand how to preserve your roof, your gutter system, and your home's exterior. As Salem's home exterior experts, we will take care of you from start to finish.
While our experts are cleaning your roof, they can thoroughly inspect the surface to help identify any potentials issues that could cost you a lot of money down the road. If you're looking for a preventative roof cleaning partner in Salem or surrounding areas, reach out to us today for a free, no pressure consultation.
Roof cleaning is one of the easiest, cheapest ways to maintain your home, to extend the life of your roof, and to prevent avoidable and expensive repairs. We will walk you through the process and will work with you to make sure your roof is clean, and your home's exterior is healthy.
We also provide a variety of other services including: