Local. Trusted. Family Owned.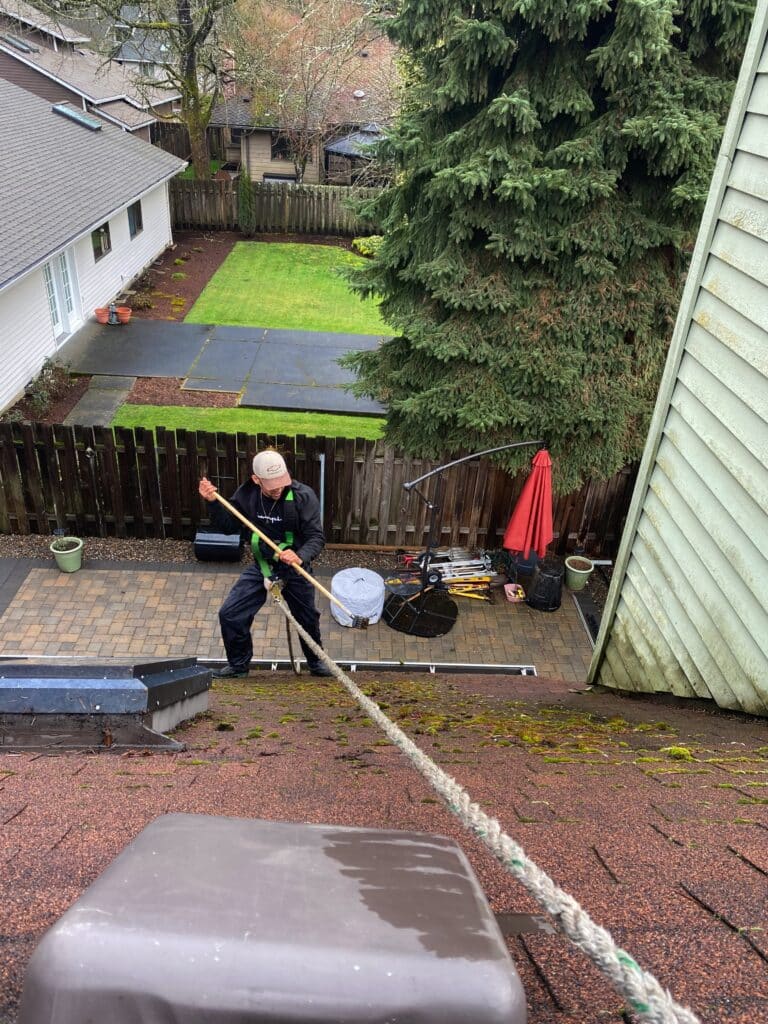 Top-Rated Roof Cleaning
in Tigard
As a new homeowner, you may be wondering why it's important to pay attention to your roof. The bottom line is your roof plays a critical role in maintaining the structure of your home. It provides protection from rain, snow, and the debris that comes along with the forces of nature. If you've been living in our house for years and haven't cleaned your roof, it may be time to start. A regular roof cleaning can prevent moss and mildew accumulation that can create a hazardous environment for you and your family. Clearing your roof of dirt and mold will also extend its longevity, as it won't decay with organic matter build-up. It can also help avoid early roof replacement, which can be costly and a headache to work with.
Searching for Tigard
Roof Washing Near Me?
If you're looking for roof cleaning Tigard, OR, or roof cleaning near me, contact our team at Oregon Exterior Experts. We have years of experience cleaning roofs to make them look good as new. Beyond giving your roof a visual lift, we provide it with the care it needs to thrive. Our soft wash roof cleaning method uses gentle cleaning materials to protect the integrity of your roof. Our milder process doesn't compromise the quality of our clean, though. You can rest assured that our roof technicians have the experience and training necessary to clean your roof thoroughly.
When moss accumulates up on your roof, it only spells bad news. This organic material can damage shingles, causing them to crack and leak. The longer moss stays on your roof, the more damage it can do. As a premier roof washing company, we offer the most effective roof moss removal service in the Tigard area. We've seen roofs that haven't been touched in years and others that just had a bad weather season. Our background dealing with the most challenging roof cleaning jobs make us skilled at completing a thorough roof clean.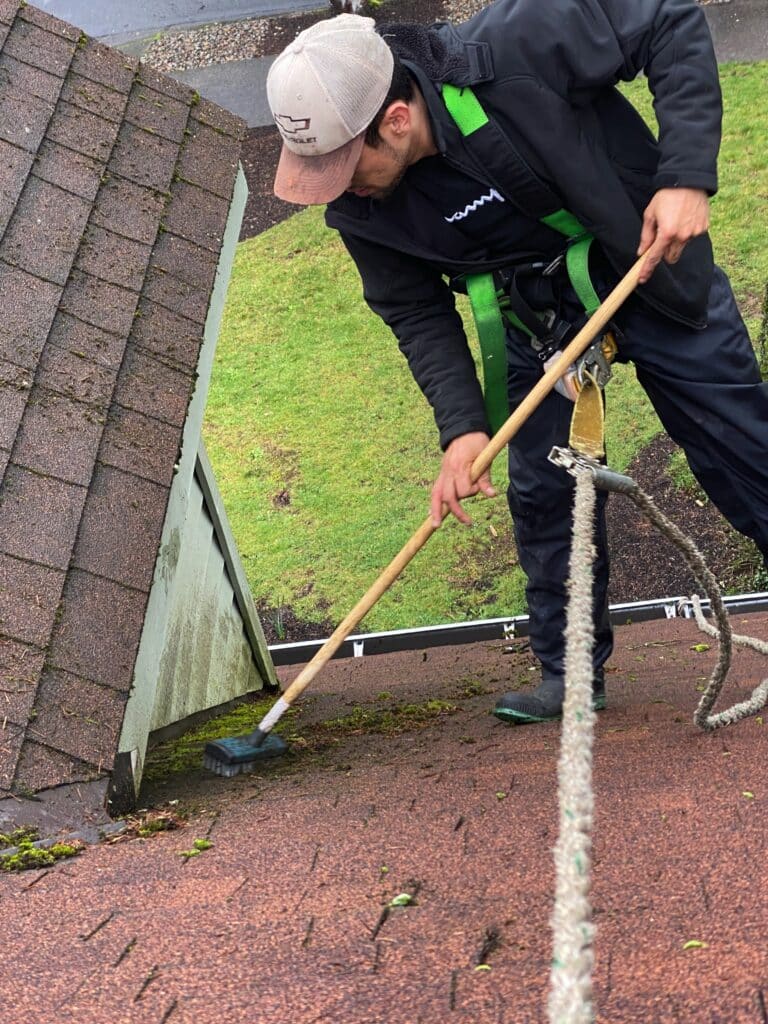 Local. Trusted. Family Owned.
Expert Roof Washing Tigard OR Residents Trust
Call Today for Roof Cleaning &
Washing in Tigard OR!
At under 12 square miles, Tigard is home to over 50,000 people and is part of the Portland metropolitan area. Besides offering a robust transportation infrastructure, the city is home to a wide range of activities for the whole family. Whether you're a resident or just stopping by, the Beaverton Night Market and Broadway Rose Theater Company are cultural staples you can't miss. Tigard combines a vibrant community with the unrestrained nature of the Pacific Northwest.
If you live in the Tigard, OR area and are searching for roof moss treatment or roof washing Tigard, OR, get in touch with our team at Oregon Exterior Experts. We'll start you off with a free estimate of your roof cleaning project. It's best not to delay your roof cleaning any further and get ahead so you can protect your home. Whether you're a roof maintenance newbie or a seasoned pro, our team is here to answer any of your roof washing questions. We're confident our roof cleaning services will leave your roof looking better than new!
We also provide a variety of other services including: